Outlook Integration. Calendar¶
Outlook Calendar Sync is available in the extension. Compatible with EspoCRM 5.6.3 and higher.
Features:
Meetings, Calls, custom entities of Event type can be synced from EspoCRM to Outlook.
Attendees are synced from Outlook to EspoCRM as Contacts, Leads, and Users.
Attendees are not synced from EspoCRM to Outlook.
Outlook recurring activities are not synced to EspoCRM.
Three modes of sync are supported:
Outlook to EspoCRM
EspoCRM to Outlook
Both
Setting up for users¶
Assuming, that the administrator has already set up the integration.
Go to your user detail view (the menu on the very top-right corner > click on your user name). Then, click External Account button.

Click Outlook on the left panel, check Enabled checkbox and then click Connect button.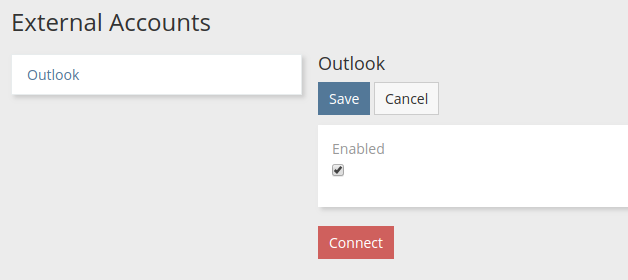 A popup will show up asking for a user consent.
If everything went fine, a green label Connected should show up.
Important: If you connected successfully, but Outlook Calendar checkbox didn't show up, that means that the administrator did not grant you access to Outlook Calendar scope.
Check Outlook Calendar checkbox and configure sync parameters.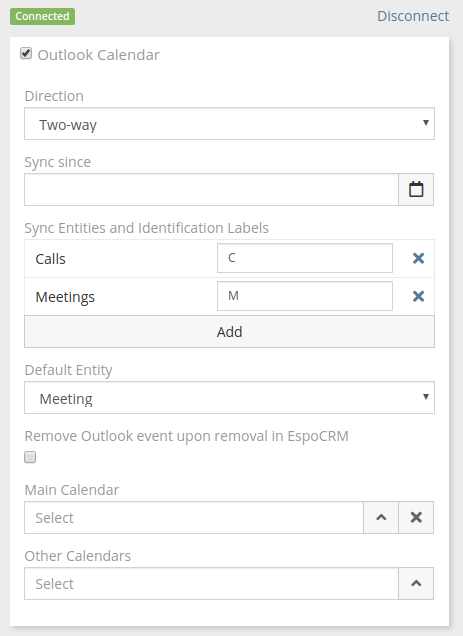 After that, you need to click Save.